How an Automated Pallet Shuttle System Improves Warehouse Efficiency
It's all about efficiency in the modern business world. As a result, new ways to make better use of space, reduce mistakes, cut costs and maximise productivity are at the order of the day. Hence, the automated pallet shuttle system, which makes high-density and deep-lane storage possible.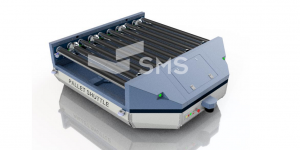 Automated storage & retrieval systems (AS/RS) hold several benefits for warehouse operations, including:
Better use of available vertical and horizontal space.
Reduction in human error related topallet counting.
Faster retrieval of goods.
Reduced need for aisles.
Reduced need to expand floor space usage.
Perfectly suited for rack-clad building structures.
Potential for 24/7 operation.
The Omni-Mole®, as the next-generation pallet shuttle system, is an example of the perfect AS/RS to help speed up warehouse operations, reduce storage costs, and maximise volume turnover potential. See more information about its operation on our automation page.
Let's take a closer look at this trailblazer two-dimensional lane system, which is about to change the way warehouse owners look at storage potential.
Adaptable to various layouts and building sizes
Flexible and scalable enough to be adapted to any building layout and type, this pallet shuttle system is suitable for small, medium, and large facilities.
Cutting-edge technology for easier placement of goods
It operates on the lift-&-run principle, making product placement even deep into the racks as easy as if the placement is at the nearest front rack space.
Automation of material handling
The Omni-Mole® requires very little human input. It counts the pallets, has automated battery recharge and requires little maintenance. With the Warehouse Execution System consisting of three modules to facilitate full automation of warehouse storage functions, it's the ideal solution for high turnover warehouses. The three main modules include:
TRACK-IT to manage the inventory.
CONTROL-IT to control the operations.
MAP-IT to manage resource traffic.
Full automation is possible with Pallet Shuttle System
With the vertical transfer unit (VTU) forming part of the solution, placing pallets at the highest racks is easy. Add to such the automated guided vehicle and conveyor systems, and it becomes clear that full warehouse automation is no longer just a pipedream. It's here to make high volume product handling, storage and retrieval possible with a superb return on investment.
Pallet Shuttle System facilitates order picking operations
With pallets stored on all levels, but the ground one, order picking operations can take place at ground level. This speeds up order picking operations as a ground-level tunnel system can form part of the layout for fast product retrieval with conveyors, trolleys and sorting systems.
Sophisticated software for improved control
The pallet shuttle system is operated with the WES software solution. Central control and optimal reporting functionality provide for a credible audit trail.
Pallet Shuttle System – To conclude
Modern warehousing is highly competitive. To stay in the race, companies need to reduce costs, improve efficiency, and increase capacity. This solution makes it possible.
Interested in this state-of-the-art automated pallet shuttle system and ready to streamline your warehouse operations? If so, get in touch for a consultation to discuss how we can meet your particular warehouse automation needs.
Sources: