Racking & shelving are ubiquitous elements of most modern warehouses, manufacturing facilities, retail centres and distribution facilities. Storage Management Systems can improve your storage efficiency with high density storage racking or shelving. Various options are available with accessories to suit your application.
Static racking is the support you need with standard to heavy duty racking and ranges from roll formed to clip-in to a structural bolt-together configuration.
Our Adjustable Pallet Racking (APR) or Conventional Pallet Racking (CPR) are fully adjustable to fit any size warehouse with the maximum of ease. APR allows for the use of counter-balance forklifts, reach trucks or turret trucks in Very Narrow Aisles (VNA). All the components are tested to guarantee strength and durability.
Advantages of APR
Most types of pallets can be stored
Utilises your headroom to a maximum
Offers high flexibility
Can carry heavy-loads due to additional beams can be added
100% product accessibility due to selective picking
No need to extend your footprint due to multiple levels
Caters for a large variety of products enabling a high SKU count
Offers quick installation and easy replacing of damaged components
Our Drive-In Racking is a multiple depth storage system with support rails that allows forklifts to enter the racks. This system makes it possible to reach high blocks of pallets. Drive-In Racking is both ideal for and enables:
Space maximisation
A homogeneous product
Low turnover
FIFO or LIFO
Large stock holding per SKU
Cooler or freezer applications
Advantages of Drive-In Racking
High density storage at a minimum cost
Increase floor utilisation by up to 50%
Our Mobile Base racking system is a cost-effective solution for excellent storage space utilisation as only a single aisle might be needed as opposed to the multi-aisle of static racking. Standard racking is mounted onto a mobile base, which allows you to move the racking, opening only the shelve/ rack that needs to be accessed. Easy to use and maintain, it is completely safe to utilise. Our mobile base is ideal for:
Optimisation of space
Refrigerated chambers
High selectivity
Advantages
Increase floor utilization by up to 80%
Low maintenance requirements
100% product/material accessibility
Light-weight with maximum storage capabilities
Our Live Storage system consists of racking where the platforms, consisting of rollers, are slightly inclined, allowing the palletised goods to move to the front by means of gravity.
It is a storage system designed to store materials on pallets. Its high storage density capacity makes it convenient for factories and warehouses. Forklifts can reach heavy loaded pallets with ease. Palletised materials can be stored in horizontal rows with multiple levels.
Advantages
Separate loading and off loading
Uses gravity to provide automatic FIFO operation
Increase floor utilisation by up to 50%
Safely stores heavy loaded pallets
Pallet Flow
Our Live Storage racking for pallets is also ideal for storing homogeneous pallets, and is suitable for warehouses where both controlling stock turnover and saving space are critical.
There are two types for pallets:
Gravity Flow: The racking facility has a loading area (highest) and an unloading area on the opposite end of the roller beds. It offers ideal storage for FIFO (first in, first out) racking systems and in cases where stock turnover control is important.
Push Back: The racking facility has a single loading/ unloading area. It offers ideal storage for LIFO (last in, first out) systems and in cases where the amount of references prevails over the volume of each reference.
Benefits
Increased security
Great stock turnover control
Saves space
Carton Flow
In addition, our Live Storage racking for cartons or boxes is a high-density system for storing boxes or light products. It is recommended in cases where both controlling stock turnover and saving space are critical. Unit loads slide on slightly tilted pulley wheel ways at the different levels of lanes. These ways can be easily adapted in the cross direction to accommodate different unit loads. This system increases picking rates.
Our system offers multiple levels, each containing racking or shelving. The Multi-Tier racking system is the optimal solution for manual storage where available space is limited. Therefore, this storage system is selective, as it allows immediate access to all unit loads and/or references stored; and versatile, given its adaptability to any type of unit load. This storage system provides excellent maximisation of height by creating different aisle load levels, which are accessed by means of stairs.
Advantages
Optimisation of space maximisation of height
Selective – immediate access to product/ material
Versatile
MANUAL LOADING
CARDBOARD AND PLASTIC BOXES, BULK
Our Longspan racking system is the optimal system for manually storing small to medium-size products. The range of accessories and possible system configurations allow it to be adapted to any type of goods. Although it is a hand loaded system, it utilises the full height of the facility, since higher levels can be accessed using mechanical means (S/R cranes or order-picking trucks) or through walkways located inside the system.
Benefits
Versatile, given its adaptability to any type of unit load
Selective, as it allows immediate access to all unit loads and/or references stored
Dynamic, since it is easily assembled and/or disassembled, and components are also easily replaced and/or added
Our temporary stand-alone structures allow for a double floor area by creating an extra platform. Mezzanines use a variety of accessories, such as railings, stairs, pallet unloading points, and more. Mezzanine floors can be assembled using different materials, such as wood and tramex. The mezzanine system is the ideal solution to allow maximum utilisation of building height, multiplying its effective surface.
Benefits
Flooring is demountable and adjustable to suit your changing needs
It is a temporary structure, that is, not part of a building, and can be dismantled and removed or moved elsewhere
Increases the effective working area
Easy to assemble
This storage system mainly consists of a base, a column and overshooting arms. Our Cantilever system allows levels to be located on one or both sides of the column. It offers an efficient and economical option for the storage of long, volume loads in bulk, especially designed for slow moving goods. This makes our Cantilver racking system ideal for the storage of furniture, tubes, timber, steel frames and other heavy loads. Side loaders or 4-way trucks can be used with this system. It is strong, versatile and adaptable. It is also great option when your company is looking for future expansion.
Advantages
Efficient and economical
Easy to assemble
Adjustable
Safely utilises height
Maximum resistance with maximum storage capacity
From light to heavy duty shelving for storing documentation, parts, materials and stock.
Standard bolted shelving – documentation
Boltless shelving
Modular
Wire shelving
Steel
Galvanised – durable, hardwearing for harsh environments.
Optional extras:
Cladding
Shelf dividers
Intermediate shelves
Rack clad warehouses are any type of storage systems in which the racking is part of the building structure, thereby avoiding the need for the structural support work of a conventional building. For this type of warehouse, the racking not only supports the load of the stored goods, but also the load of the building envelope, as well as external elements, such as wind and snow. Most Rack Clad Buildings are automatic systems using robotic equipment for handling loads. The rack clad or rack supported building are composed of either structural steel sections or roll-formed pallet racking.


Advantages:

Customised
High rise
Top performance
Great cost benefit
There are several types of Automated Storage & Retrieval Systems (AS/RS) called Unit-load AS/RS, Mini-load AS/RS, Mid-Load AS/RS, Vertical Lift Modules (VLMs) and Vertical Carousels. These systems can either be stand-alone units or in integrated workstations called pods or systems. Usually these units are integrated with various types of pick to light systems and use either a microprocessor controller for basic usage or inventory management software. Maximising space utilization are the greatest advantage of these systems where space utilization can be increased by up to 90%, productivity levels by 90%, accuracy to 99.9%, levels and throughput up to 1000 lines per hour/per operator or more depending on the configuration of the system.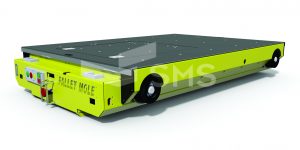 With more than 17 years' experience with development and continuous improvement of our Pallet Mole™, Storage Management Systems has the solution with the latest technology in compact, high density vertical storage, to maximize the use of floor area and warehouse capacity.

SMS has developed an innovative, high density storage system to meet various storage demands. The Pallet Mole™ Deep Lane Storage System, our flagship solution, enables "aisle free" racking to provide a much higher density of storage than Drive-in racking, Double deep storage and conventional All Purpose Racking / Adjustable Pallet Racking (APR) or Very Narrow Aisle (VNA) storage.

It is also ideal for freezer applications, where the more compact the goods are stacked, the better the efficiency and ease of temperature control. The Pallet Mole™ can operate in an environment of up to -30˚C / -22˚F. Proven track record that our Pallet Mole™ are used all over the world.

Advantages of the Semi-Automatic Pallet Mole™ System:

Maintenance & operational costs
Reliable
Ease of use
Time saving
Flexibility
Value adding
Safety
How the Pallet Mole works:

Powered by on-board rechargeable batteries, the Pallet MoleTM is driven on rails, into a specially designed racking system of tunnels. Using the lifting platform and positioning sensors, each load is then transported to the furthest available storage location in the tunnel. Storage and retrieval are both conveniently operated by the forklift truck driver using a remote control.

 
Key Features of the Pallet Mole™

Electro-Mechanical Lifting & Traction System – Reduces maintenance costs and downtime.
Full two way communication – provide vital information back to operator
Positive FLT positioning
AC driven technology – Reducing maintenance costs, improving reliability and efficiency
Regenerative Braking – 20% longer battery life
Operational Warnings
Lower maintenance wheels
Dual spacing system
Control and positioning is fully autonomous
Removable Battery packs - making 24hour operation possible

 

Operational Features

Patented Pallet Count System
Pallet Mole™ Recovery Mode
"Battery Low" Fail Safe Function
"Pallet Shuffle" Function
Secure Locking Mechanism
Pick by quantity Function
Control Options:

Option1 "AD-HOC" – proprietary Wi-Fi controller
Option 2 "AD-HOC" – any Wi-Fi enabled, "smart" device
Option 3 "Infrastructure" Wi-Fi Network - Semi Automated option
Option 4 "Infrastructure" Wi-Fi Network - Automated

 
 
Mole Management System (MMS)

The MMS monitors, controls and records information pertaining to Pallet Mole™ units. The system is a " Lite " version of our full "Control-IT" warehouse control system (WCS). This system monitors all Pallet Mole™ units, within the warehouse in a user friendly manner that is easy to navigate, simple to access and incredibly informative. The data is always available to the client and therefore can be used by internal data analytics teams to illustrate working hour statistics, operational statistics, power consumption and even pro-active, automated service notification. This simple openness of data allows us to work with the customer to achieve the desired goals of the facility. The MMS can always operate as a standalone application but if required, also integrates seamlessly with our warehouse management system (WMS) called Track-IT™.
"Simplicity is the ultimate sophistication." – Leonardo Da Vinci
Our Fully Automated Pallet Mole System (FAM) is a new flexible innovation in bulk storage which is ideal for high volume/low SKU palletised loads. The system, being a cart-based Automated Storage and Retrieval System (ASRS), provides the capability for high, scalable throughput.
Comprising of simple components, the FAM system provides the highest density storage together with throughput flexibility in the world. Storage Management Systems believes in 'the beauty in simplicity'.
---
Industry-Leading Features
| | |
| --- | --- |
| Feature | Benefit |
| High Storage Density | Up to 100% higher capacity compared to AS/RS Crane systems |
| Ultra-Flexible Throughput | Sub-components can be added to accommodate higher throughput requirements |
| Easily Configurable | Can be accommodated in existing warehouse facilities |
| Autonomous Sub-systems | High level of parallel redundancy, ensuring high system availability |
| Fully Automated, Perpetual Pallet Count | High level of stock accuracy, no down-time during stock-take periods |
| Scalability | Lowest capital cost compared to other high density storage solutions resulting in high return on investment (ROI) |
| Parallel Redundancy | Multiple resources able to handle tasks in parallel |
---
SYSTEM RESOURCES
Pallet Mole / Transfer Car / Vertical Transfer Unit
---
FAM system operates in two modes, depending on pallet through-put requirements.
High Pallet through-put requirement - In this scenario, Vertical Transfer Units (VTU's) are used to transfer Pallets only to various storage levels. Dedicated Mole Transfer Carts (MTC's) and Pallet MoleTM units are assigned per storage level.
Low pallet through-put requirement - In this scenario, Vertical Transfer Units (VTU's) are used to transfer Pallet MoleTM units and/or Pallets, together with Mole Transfer Carts (MTC's) between various storage levels.
---
STOCK MANAGEMENT & CONTROL SOFTWARE
Warehouse Management System (WMS)
Warehouse Control System (WCS)
At the heart of any efficient logistic solution, be it Manual, Semi-Automated or Fully Automated, lies intelligent software. Storage Management Systems' WCS & WMS software, in conjunction with our FAM storage solution ensures optimum performance. The modular software is a perfectly adapted one-stop solution.
•     Individual support of your specific processes
•     Scalability according to requirements
•     Easy integration into other systems
•     Flexibility for future extensions
•     Reliability thanks to state-of-the-art technologies
---
FAM SYSTEM FEATURES
| | |
| --- | --- |
| MHE movement speed | All MHE travels at 1m/s when fully loaded and 1.25m/s when empty. This is done to safely reduce cycle times. |
| MHE weight bearing | Maximum pallet loads of 1,500kgs can be handled. Heavier loads can be handled with customised MHE design. |
| Modular design | The system is designed in a modular way to allow for sections to simply be added on in future extensions of a warehouse. |
| Quickly constructible and de-constructible | As opposed to other AS/RS systems, FAM systems are quick to assemble and dissemble which allows them to be moved within warehouses or from and to facilities as required. |
| Complete/partial automation options | The FAM system can be placed into a system directly after an industrial fabrication process. This allows a fully automated system from raw materials to palletised products and lastly distribution. Alternatively, the FAM system can be configured to accept pallets manually by fork-truck operators, etc. |
| Traceability of items | Full traceability of stock through barcodes / RFID tags allows FAM systems to offer security of stock. |
| Perpetual stock count | The FAM system does its own "housekeeping" when the system is not in use / undergoing minimal usage, it performs an automatic, perpetual stock count of pallets in the system. It ensures that the stock within the database matches the stock within the system. It flags any differences. |
| Simple user interface | The user interface is designed to be easy-to-use, offer a powerful, "Dash-board system overview", depicting the amount of data visually/graphically. |
| ERP integration | The FAM system offers full integration with any existing ERP system. Integration is via simple, pre-defined data tables in a common database, shared between "Track-IT" WMS and customer ERP system. |
---
VIDEO
A NEW INNOVATION IN AUTOMATED, HIGH-DENSITY, FLEXIBLE PALLET STORAGE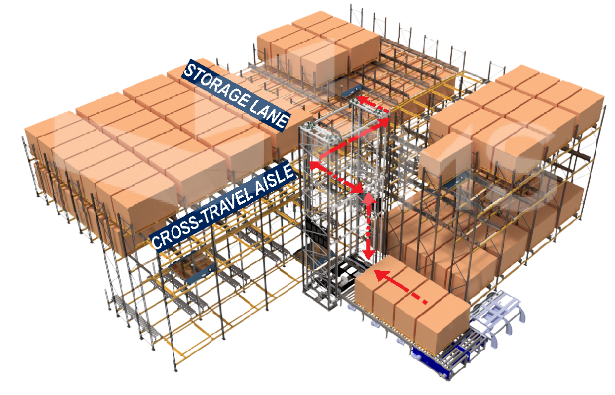 OMNI-MOLE SYSTEM
The Omni-Mole system is a bi-directional, cart-based, high-density, deep lane storage, palletised load, lift & run system, which provides flexible throughput together with ultimate scalability.
Key Features of the Omni-Mole System:
High Storage Density

Autonomous Material Handling Resources

Scalability

Simplified Technology

Configurable to any building

Maximizes space utilization

Ultra-Flexible throughput capability

Highly reliable

Easy to maintain

High parallel redundancy

Fully Automated Perpetual Pallet Count
The Omni-Mole is the next generation of our well-established, reliable Pallet Mole™ platform. The solution realises shuttle translation on a 2-dimensional plane as opposed to a 1-dimensional line, achieved by the Pallet Mole™. Vertical transfer of pallets are achieved through our vertical transfer unit (VTU), allowing pallets to reach any location, within a multi-level, high-density racking system. The solution is crisp and allows for expansion through interfacing conveyors and automated guided vehicles (AGV's).
OMNI-MOLE SYSTEM COMPONENTS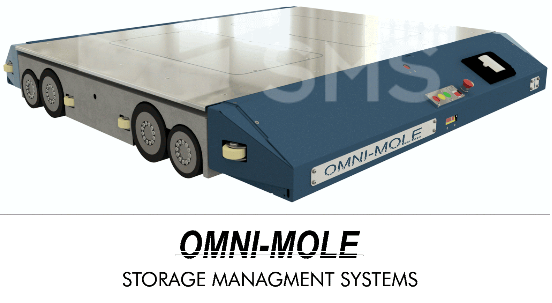 Stock, Traffic Management & Control Software        

TRACK-IT

: Warehouse Management System (WMS)

MAP-IT

: Resource Traffic Management

CONTROL-IT

: Warehouse Control System (WCS)

Vertical Transfer Unit – "VTU"

 
For more information, download our Omni-Mole brochure
The ultimate Space Saver storage systems for hand picking SMS has been the official agents for Hänel Storage Systems in South Africa for the past 17 years. We provide the following Hänel warehouse storage solutions:
Hänel Rotomat Storage > Vertical Carousel technology
Hänel Lean Lift Storage > Vertical Lift technology
Hänel Multi-Space
www.hanelstoragesystems.com
Hänel Rotomat® Storage Carousels
The principle is simple – The applications are brilliant! The compact design of the Hänel Rotomat® enables up to 60% more storage area to be created on a minimal footprint by making use of the available room height. The operating principle The Hänel Rotomat® creates an enormous amount of storage space on a small footprint. It works on the Ferris wheel principle, i. e. the archives come to the operator, not the operator to the archives. The structural design Self-supporting steel plate casing, comparable to the cellular structure used in the aircraft industry. Lockable, smooth-action sliding doors. Environmentally friendly powder coating, as well as impact-resistant and shock-proof stove enamel finishes. There are five attractive colors to choose from. Customized finishes are possible. The drive system Most Hänel Rotomat® storage carousels are powered by two 400-V three-phase motors. Pole-switching three-phase motors are used as standard, enabling gentle but powerful acceleration and braking even under different load conditions. The intelligent Hänel control systems Powerful Hänel microprocessor control units offer the possibility of hooking up to computers and other peripheral devices, giving you an optimal overview at all times. The safety Hänel ensures maximum safety by using the Hänel safety threshold switches and light-barrier curtains compliant with DIN EN 15095. The Hänel Rotomat® carousels have the German GS mark and the Swiss SUVA inspection certificate attesting to their safety.
Advantages
Optimum use of floor space. There are no upper limits to the Rotomat®.
The Rotomat® is as flexible as you need it to be. Even systems with multiple access points on different floors are possible.
Goods to man is the motto instead of man to goods. Time is saved and access times reduced.
High-performance controllers and interface with IT systems make the Rotomat® flexible and adaptable to customized applications.
The requested part or tool is brought automatically to the ergonomic retrieval height.
Safety has top priority. No ladder-climbing, no risk of accidents.
The Rotomat® protects all the parts from dust, light and unauthorized access.
Elegant design and five modern colors to choose from. Customized finishes are possible.
Hänel Lean Lift®
The automated 'high-bay warehouse in a cabinet' The Hänel Lean-Lift® is both storage rationalization and goods protection in one: At the center of this closed system is a computer-controlled positioning lift – the 'extractor'. In front of it and behind it are the storage shelves. This is where the articles are stored in containers in height optimized positions. The storage locations are accessed automatically under electronic control by means of the extractor, which stores or retrieves the requested container. The goods are then delivered to the retrieval area at the correct ergonomic height. This ingenious principle finds applications in a wide variety of industries. Used in the medical technology and electrical engineer­ing sectors (for which ESD versions are possible) and also in the automotive, aircraft and pharmaceutical industries or in mechanical engineering, the mail-order and wholesale trades – the Lean-Lift® is the ideal buffer, dispatch, production or tool store, to name but a few sectors that demonstrate its versatility.
Advantages
Over 60% more storage capacity for warehouse storage
Fast storage and retrieval time
Optimum storage capacity, due to height-optimized storage
Storage and handling of bulky and heavy parts
Load-carrying capacity per container up to 1,000 kg
Load-carrying capacity per Lean-lift up to 50,000 kg (tested statics)
Material to operator, not operator to materials: this saves time
Built in Security
High efficiency and cost saving
Storage of dissimilar sized items
The Hänel Multi-Space®
Maximum Flexibility With the rollout of the Multi-Space®, Hänel optimizes the principle of 3-axis storage systems. In addition to the many benefits of Hänel's Lean-Lift® technology, the Hänel Multi-Space® offers maximum flexibility, speed, and space utilization. Thanks to its cutting-edge technology, Hänel is able to offer a 3-axis storage system that is over 9 m wide. The Hänel Multi-Space® can even vary its width and height to meet later needs – a new feature from Hänel! Even the number of access points is variable and can be altered at any time. Along with the different container widths and depths, this results in the most versatile of combination possibilities. A wide range of boxes and compartment divisions enable orderly, space-saving storage of small parts Optimum space utilization The variable positioning of the access openings makes optimal integration into already existing storerooms possible. Previously inaccessible areas can be integrated into a storage concept without difficulty. And the Hänel slot profile combined with the Hanel multifunction containers are the ideal prerequisites for compact, heightoptimized storage. Time saved No waiting – one operator can perform order picking at two access points! At units with two access openings, users can retrieve at one and store at the other simultaneously! The right decision If you want to improve your intralogistics concept and reduce costs, you should talk to the specialists at Hänel first to work with you to develop your own 'tailor-made intralogistics concept'.
Advantages:
Modular scalability with the use of additional storage units (payload up to 40 tons per unit)
Unique extractor design in state-of-the-art lightweight construction (as used in bridge engineering) ensures maximum stability.
The Hänel Multi-Space® offers modular scalability in height and width – up to a total width of over 9 meters.
Variable container widths, different payload capacities and the Hänel multiple pitch ensure the optimal solution for any challenge to compact storage.
Designed to maximum safety standards, the Mini-Load system have an inherent bending resistant single mast design which stores & picks individual loads from bays within the racks to provide high productivity picking. Once a load has been picked, it will be delivered to the output bay. This system is ideal for handling of lightweight or small loads. Notably, all structural elements, even the switch cabinet, can be reached without a ladder or platform. The systems' low-wear bearing with Vulkolan and polyamide rollers assures an extremely low noise level when running. The single-sided layout of the systems especially allows for service and adjustment work to take place within the confines of narrow aisles.
Key Features
Rigid single-mast construction design for high dynamic resilience
2-wheel drive for high acceleration and traveling dynamics
Low-wear bearing with vulkolan and polyamide guide rollers for extremely smooth running
All critical service elements are accessible without ladder / platform, including the control cabinet
Service and setting up can be carried out in narrow running aisles
Complies with high safety standards
Designed for expedited handling of cartons, totes or trays in high throughput environments, SMS offers its clients various One Level Shuttle (OLS) single and double deep load handling devices. This shuttle has a two-dimensional movement (along aisle and into storage) while storing and retrieving items at multiple depths on a shelf.
OLS robot vehicles can be shared between levels or dedicated to a single level, depending upon system capacity requirements. This storage system may consist of one or more lanes, wherein more shuttles can be used
The devices are also furnished with on board vehicle controls and Wi-Fi data transmission.
The devices are used for high dynamics as well as extendibility.
Goods to Man
With increased SKU numbers today and growing markets such as e-commerce, with the demand for just-in-time ordering, workforce consistency and availability have become less predictable. Therefor embracing the Goods-to-man approach using this type of technology minimizes wasted time between picks increasing the number of orders processed per person.
Advantages
Maximum throughput through parallel processing
Single- and multi-deep storage
Highest variability for customized solutions
Maximum energy efficiency with respect to moving containers
Common Applications for One Level Shuttle ASRS Include:
Sequence buffering between operations with disparate timing.
Reordering input and output to improve upstream productivity while meeting downstream demands.
Goods to man order picking
Feeding unit sortation induction stations.
Mixed case pallet building.
Sorting, staging and accumulating as a conveyor replacement.
Features of One Level Shuttle ASRS:
Smooth, high-speed, low-wear operation.
High availability and reliability due to modular design and scalable architecture.
Ability to redundantly store inventory and spread transactions to allow for complete failover safeguards.
220-pound / 100 KG load handling capability.
Ability to handle various load types
Safe & quiet operation
Low energy consumption due to run on demand design and low weight.
Long service life, high load capacity
Storage and retrieval cranes are used to store unit loads or pallets in high bay warehouses at a height of up to 24 m. This technology type is also used for automatic loading and unloading of flow rack systems.
Produced in the proven two mast technology, this crane contains a multi-material mixture of composite, steel and aluminium, resulting in a mammoth 60 percent reduction in weight when compared to older designs. The result is a stiff and reliable structure that meets even the highest requirements. Telescopic forks are used as load handling device (LHD). Used for multiple-depth storage as usual in channel warehouses. The mast in the crane's framework-construction provides the necessary stability and strength required, no vibrations and a proven low centre of gravity for the whole system.
Stateof- the-art camera systems for efficient troubleshooting and increase of the operating comfort may avoid accessing the ASRS machine for fault finding.
These machines can also be equipped with state-of-the-art energy saving technology on request. This comprises an active coordination of the running axis to achieve energy-optimised running profiles. In addition an optional energy recovery system is available, e.g. to recover excess brake energy and feed into the supply grid instead of emitting it as heat through the brake resistors. Energy-efficient high-bay warehouses also require optimisation of the overall system.
Benefits
reduced labour for transporting items into and out of inventory
reduced inventory levels
more accurate tracking of inventory
space savings