Three Reasons to Automate Vertical Storage Operations
Automated vertical storage systems improve space usage efficiency and accessibility to stored products. Three top reasons for using Automated Storage & Retrieval Systems (AS/RS) technologies are shared below, helping you to see how you can optimise space usage, increase operation efficiency, and improve product safety.
Best use of space
Use space more efficiently with a state-of-the-art AS/RS. We offer everything from Mini-load and Unit-load to Vertical Carousels and Vertical Lift Modules (VLMs) to help you automate vertical storage functions. You can use a stand-alone unit or opt for pods, which are integrated workstations. With these systems you can increase the efficiency of space usage by as much as 90%. Productivity is also increased by up to 90% while accuracy can be increased by almost 100%. These units make it possible to experience a significant increase in throughput conditional to the design, setup and layout of the particular solution. By adjusting the facility layout for upright space rather than horizontal floor usage, you can optimise otherwise unused space.
Improve operation efficiency
Valuable time is lost when workers have to collect stored goods from various parts of the facility. The product accessibility achievable with our automated vertical storage solutions, makes it possible to retrieve stored goods with the simple selection of the products to be collected. The system does the locating and retrieving work. Efficient time usage translates into reduced costs and higher profits. Reach out for more information on how our advanced automated storage solutions, such as the Omni-Mole® can help you to find and retrieve stored goods. With the Omni-Mole®, should you need higher throughput, you will be glad to know that material handling resources can be added. The system can be configured according to your building layout and design.
Reduce product damage risk
Do you have a hand-picking storage management system? Is product safety of ultimate importance? Want to reduce the effort of retrieving a product? Do you store medical equipment and products? Then discover the vertical lift modules from the Hänel brand. These space-saving technologies help to reduce the risk of product damage, while optimising space usage, even in small facilities.
Hänel Storage Systems include innovative vertical lift and carousel technologies in addition to multi-space saving solutions. As an official agent for the brand in South Africa, we can offer these solutions as well. The Hänel Lean Lift® provides for superb product protection through the Rotomat – Lockomat technology and best use of space. It is a closed system that comes with a state-of-the-art lift, controlled through the use of a controller.
The items are stored in special containers at the best positions. An extractor retrieves a container when required and delivers it to the retrieval space at the predetermined ergonomic height. This system is as useful in mechanical engineering facilities as it is in an e-commerce or medical product warehouses.
With it being a closed system, the risk of product theft or tampering is eliminated. With the Lockomat or Lean-Lift, user sign-in can be setup. Even if stored at height, there is no need for a worker to climb a ladder to reach a product. Read more about the Hänel Lean Lift® here.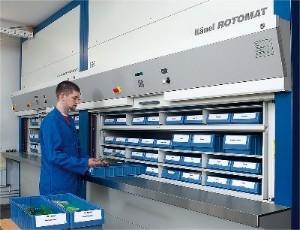 In conclusion
Many more systems and technologies are available to help you maximise the benefits of vertical storage.
Visit our storage section for a selection of economical vertical space management solutions.
Sources:
https://storagemanagement.co.za/storage-solutions/#dynamic-2