How Can Your Business Benefit from Warehouse Automation?
Warehouse automation started back in the sixties with the introduction of the first automated storage and retrieval system, known in the industry as AS/RS. However, it has taken quite a few years for technology to develop to the level of full warehouse automation as is possible today. If your firm has not yet taken steps to automate its decision making and product movement functions, then you are losing money. Here's why:
Costs of storage, space and labour remain high.
Managing workspace safety can be expensive, especially considering that you may have to stop operations due to worker injuries.
Limited operating hours as you cannot operate the warehouse 24/7 due to high labour costs.
Inefficiency of inventory control, which leads to a longer time to retrieve products.
Product losses because of misplacement or inadequate tracking.
Inefficient use of available floor space.
High energy costs associated with equipment usage.
Considering the challenges that warehouses face today to stay competitive and move products as fast and efficient as possible, it makes sense to consider warehouse automation. It doesn't mean you have to stop all operations and automate from point A to B immediately. However, to remain competitive in a business environment in which competitors automate their operations and storing functions, you need to change the way you have operated your facilities up to now.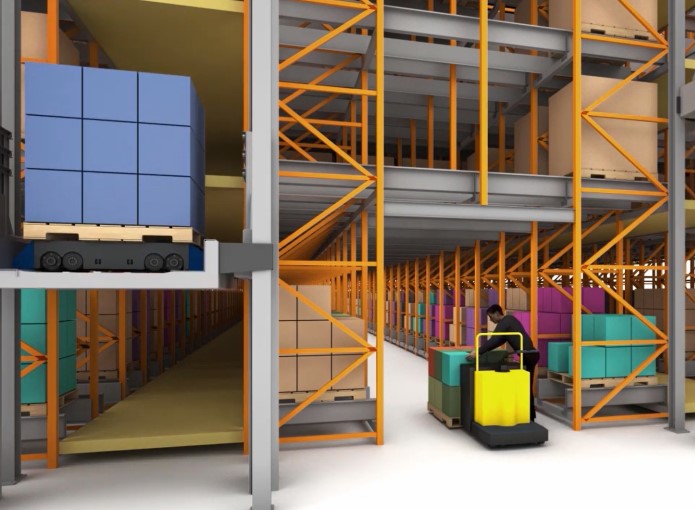 Not yet sure if warehouse automation is the right fit for your operations? Then read on to learn about four key benefits.
1. Warehouse Automation results in cost reduction
Save money related to labour costs. You can significantly reduce the number of workers needed per shift. With full automation, it is possible to operate the warehouse 24/7 without having to deal with excessive labour costs associated with many employees having to work nightshifts and overtime.
2. Improve operations efficiency with Warehouse Automation
Human error related to product placement, record keeping and machine operation costs your firm money. Inefficient systems mean having to deal with slow product retrieval. You want products to be placed at correct spaces, have control over exact placement and quick retrieval. This is all possible with software, pallet mole systems, cranes, vertical lift models and sorting systems. Your entire operation can be automated, helping you to reach maximum efficiency and experience a superb ROI. Use space better, move products faster, place accurately, retrieve quick and gain more flexibility with our range of solutions. This is efficiency at its best.
3. Warehouse Automation ensures better space usage
As mentioned before, space utilisation can be improved. This is important as floor space is a limited resource. To get more, you have to pay more rent or expand your building, which also costs money. With full automation, almost zero aisle systems can be achieved. Not only do you use vertical storage space better, but you also limit the horizontal footprint of your operations. You can store more inventory in the same space. With our vertical lift solutions, crane systems, rack solutions and automated pallet systems, you can store articles deep and high without compromising on inventory control.
4. Improve your firm's sustainability profile
No doubt, the pressure is on to reduce a company's operational footprint on the environment. With the reduction in energy use and optimal usage of available space, your firm gains points for sustainable warehousing.
What's next?
Get the information you need to make an informed decision on how to improve efficiency, reduce costs and improve profits. Learn more about our range of warehouse automation solutions here.
Sources: