Benefits of Using A Pallet Shuttle System
How to Increase Storage Density Using a Pallet Shuttle System
A pallet shuttle system enables the handling of larger volumes of single SKU pallets while also making it easier to handle the intensive load and unload operations. It is a deep storage and high-density solution for automation of warehouse operations. With this, forklifts are replaced with a radio pallet shuttle solution that streamlines work and helps to reduce the operation time for storage.
With the system, SKUs are grouped in channels as opposed to lane systems. An operator gives the orders through to the pallet shuttle. This is done using a tablet or centralised computer system connected with Wi-Fi. The load is delivered to the appropriate space, enabling compact storage.
Less forklifts are required in this type of operation, as it is only required at in- and/or outbound. As no lanes are required for forklifts, the warehouse storage capacity is increased significantly. This also reduces the risk of forklift related accidents in the warehouse space. With this type of system, the operations become more flexible.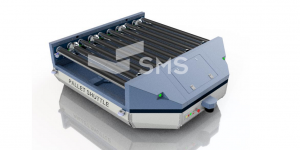 Benefits of using a pallet shuttle system include, but are not limited to:
Storage can be diversified because different groups of items are stored in different channels.
More goods can flow in and out of the space in a given period than is possible with conventional storage.
Deep-lane storage is possible, which improves the holding capacity of the warehouse.
Operation costs are slashed, helping to improve profitability.
Significant reduction in accidents, and thus the creation of a safer work area.
Reduction in maintenance expenses associated with machinery, such as forklifts.
Easy-to-manage system that allows for more mobility of the operator as control is possible from a tablet.
With warehouse space being rather expensive, it's essential to optimise the available floor space. With the pallet shuttle system, vertical storage space not used with conventional warehouse racking, can be utilised. Denser racking plays a significant role in helping to reduce the storage footprint.
Automation is no longer a luxury. Instead, it has become essential to keep warehouse operations cost-effective. By utilising strategies that include denser storage and automation solutions, companies are able to stay competitive in the wholesale, distribution and product supply chains.
The pallet shuttle system makes it possible to reduce the number of employees required to manage storage and product-flow operations. This is significant because high labour costs can hinder the growth of a company. These systems enable usage of the full capacity of the warehouse racking as shuttles can deliver items to be stored deep in the racks. Because of this, it is possible to configure racking for denser storage.
An example of this type of system is our flagship product – Pallet Mole® Deep Lane Storage System, which makes it possible to eliminate aisles for maximum storage density. It is, but one of our many solutions to improve space usage, increase product flow and reduce costs.
Where to get more information
Speak to our consultants if you want to know more about our solutions, such as pallet shuttle systems, racking configuration and material handling to increase productivity and optimise space usage.